Recently I've become super excited about reading again – a dear hobby of mine which I had ignored for a few years, mainly because of Netflix and all the great TV shows that I just "had to watch". Getting a Kindle for Christmas a couple of years ago, however, made me return to this long-forgotten activity. In addition to going through the entire Witcher book series in no time, the topic I've been most interested in lately is writing. Within the past few months alone I've read ten books about academic writing, which – I now realise – I should've done already about ten years ago when doing my bachelor's degree.
As it turns out, I'm not the only one who's made themselves somehow believe that writing is just something that happens as a by-product of being a doctoral student instead being an important, legitimate part of "doing research". Writing, reading, thinking, and talking about research are all connected and ought to be considered equally important. While I've already addressed the lack of "talking about writing" in my research on doctoral students, the books I've read and discussions I've had with my peers and seniors have made it even clearer: most academics simply don't talk enough about writing (I say most because there are some that do, including the authors of the following books). I don't know why that is, but I for sure am going to talk about it, in this post, and in my future work.
In the remainder of this post, I will share five books on writing which have inspired me this summer and which may be of interest to other early-career researchers, but maybe also to those with a little bit more experience.
Published: In 2018 by Open University Press
Out of all the books I've gone through by now, this one is my absolute favourite. It's marvellously written and not only helpful for students but also for supervisors. I know this because I made my supervisor read it too. The main focus of the book is in the reviewers' or supervisors' feedback: what do they mean when they say that "your writing doesn't flow", for example. The best thing is, the authors help you in fixing whatever your "academic writing trouble" is, while sharing a number of great examples and their own experiences.
My favourite parts of the book: "how to unlearn high school English", what "sounding academic" even means (latinate vs. anglo-saxon words), and tips on how to cut down words.
Published: In 2012 by Harvard University Press
For a long time I had been wondering why it's still considered OK (by some) to write in an extremely boring way and to use crazy-long sentences in academic writing. That's why I was tremendously happy to discover this book. It's solely about how to make your writing stand out by providing advice from tempting titles and smart sentencing to the big picture and creative touch.
"Elegant ideas deserve elegant expression", Sword states already in the preface. Although deviating from disciplinary conventions and taking risks might not be the easiest or the wisest thing to do as an early-career researcher, I'd still suggest you read this book sooner rather than later, when you can still decide the course for all your future writing.
Luckily for higher education researchers, this book also includes a number of (good and bad) examples from our field. It's pretty fun googling whom these examples came from!
My favourite part of the book: Its manifesto-like style. I for sure want to become a more stylish writer now!
Published: In 2016 by University of Chicago Press
If you've come across any of the books in this list before reading this post, it's probably this one. Already the fourth edition, this book is an all-around guide on not just writing but about doing research in general. It's extremely useful in thinking through how to consider your readers, ask questions, find answers, build an argument, find sources, and making claims already before one single word is written down. Also style and ethics are discussed, and a bunch of great resources provided at the end of the book.
My favourite thing about the book is its comprehensiveness. There aren't many topics about doing research this book doesn't address in some way.
Published: In 2007 by University of Chicago Press
After recommending the 1st book of this list to my supervisor, he recommended this book to me. Although the title says "social scientists", this book works for researchers in other fields as well, discussing writing, editing, and revising one's own writing. Becker also tells a compelling story about teaching a writing course for graduate students, revealing how most people are terribly afraid of showing a non-finished product to anyone, and how easy it is to become an irritated editor (or reviewer 2?) who can't stand other people's writing mistakes.
Becker also touches upon the topic of "academia today" vs. "academia 40 years ago", bringing up the challenges that today's early-career researchers face compared to those who have been around longer.
My favourite thing about the book: its personal style and great anecdotes.
Published: In 2007 by APA LifeTools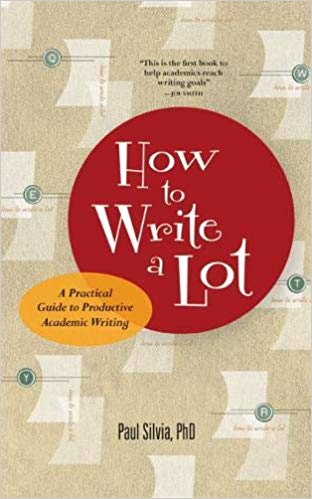 "Writer's block is nothing more than the behavior of not writing". Indeed. Out of all these five books, this one is the most practical and therefore perhaps the lightest to read. It does discuss style and different types of academic writing, but most of all it makes you get rid of the (often imagined) obstacles that we have for regular writing. This book is especially helpful if you tend to procrastinate every five minutes while trying to write. I'm really glad I found it before writing my thesis summary!
My favourite part of the book: the list of "specious barriers to writing a lot". I admit my guilt.
---
What are your favourite books on academic writing? Share your recommendations in the comments!
---
Melina Aarnikoivu (@MAarnikoivu) is a doctoral student at the Centre for Applied Language Studies at the University of Jyväskylä, Finland. Her dissertation is a nexus analysis of becoming a scholar. Lately she's also become highly enthusiastic about topics concerning academic writing. Her work can be found at ResearchGate.
---